Application and Fee Information

Making an Application to Waihi College
Waihi College International highly recommends using an education agent in your home country to help with school selection and the application process. Partner agents provide excellent levels of service and personal attention in your home country. They can also assist you in your home language and this helps you to make the best possible decision about your international education experience. For more information about Waihi College and the application process please download the relevant forms and then talk with your education agent or contact us.

School Term Dates
2018
Term 1 February 7th to April 13th
Term 2 April 30th to July 6th
Term 3 July 23rd to September 28th
Term 4 October 15th to December 13th

International Student Fees
The following fee information is for all new applications to Waihi College International for enrolment between January 2017 and December 2019.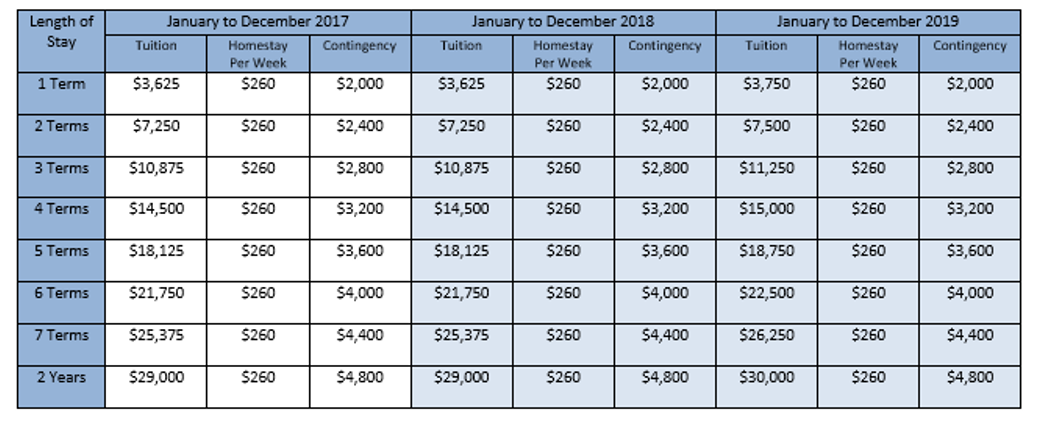 Homestay Placement Fee
$300

Contingency Payment
The contingency payment serves to streamline payment of individual student expenses and the management of student accounts. The prepaid contingency is a compulsory prepayment and covers individual costs that might arise during the student's enrolment. The contingency payment is more heavily weighted for shorter stays as students enrolled for shorter periods are more active with extra curricula field trips and activities.

A prepaid contingency makes paying for student school expenses easier and helps to avoid difficulties over student accounts at the end of enrolment. In most cases, the prepaid contingency will cover all school related expenses that students may have and can be used to pay for:

Outdoor education and activities – Approximately $500 per year however costs vary depending on activities chosen
Sports fees
School uniform – Approximately $300
School field trips and excursions
Elective course consumables – Approximately $150
Student stationary costs – Approximately $50
Airport Transfers – free of charge (this does not apply to groups)
Student insurance – Approximately $560 per year
NCEA Examination fees if appropriate - Approximately $385
Any other school related expenses that arise during enrolment

School Uniform
Students can purchase items of school uniform during the orientation days. Students can also use the contingency payment to purchase black leather school shoes from local retailers.

Homestay Fee
When invoicing homestay fees, we will apply the homestay fee for 7 days before the first day of enrolment through to 7 days after the last day of enrolment. This is necessary as actual arrival and departure dates are often not known at the time of application. Where arrival and departure dates are known, these will be used to invoice. When actual arrival and departure dates differ from those invoiced, an adjustment will be made and any overpayment of homestay fees will be refunded at the end of enrolment. Any underpayment will be met from the student's contingency payment.

Contingency Summary
A summary of contingency spending will be provided at the end of each school term and any unused portion will be refunded to the student at the end of the enrolment period