Uniform
All seniors (Yr 11 & 12) wear white polo shirts, and can choose either the school sweatshirt or the woollen jumper, for extra warmth the regulation school jacket can also be worn. Regulation grey shorts or Waihi College black pants are available for the boys to wear. However, the girls have a little more choice and can wear the skirt, shorts or black trousers.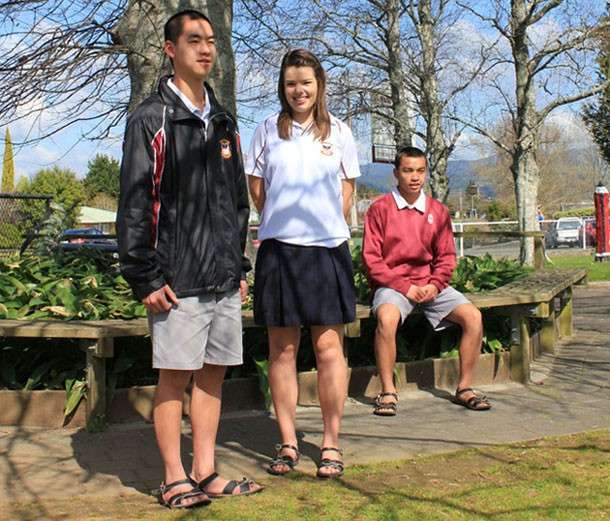 As seen in this photo the students are wearing black roman sandals however, they also are able to wear flat, black, plain leather shoes with regulation socks and the girls are also permitted to wear natural/black pantyhose. When wearing trousers students are required to wear shoes and socks rather than the sandals.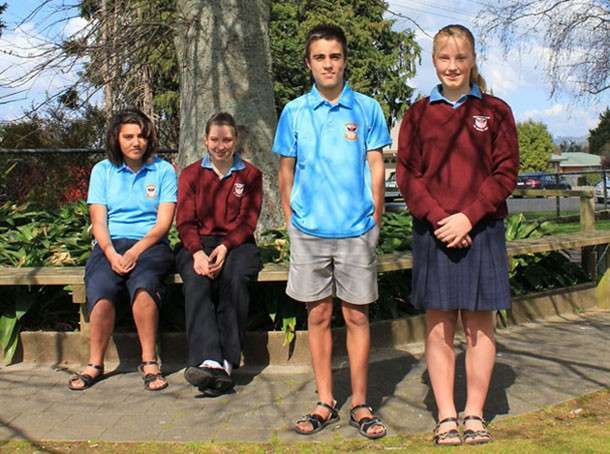 This photo shows junior students wear the Waihi College blue polo shirt and like senior uniform they have a choice of either shorts (grey for boys and navy blue for girls) or black trousers and the girls have the option of wearing the school skirt.

All students are permitted to wear a white t-shirt under their polo shirt.

As from 2012 students will wear black shorts or trackpants and a house colour t-shirt for P.E. Waihi College hats, caps or plain black beanies may be worn during interval and outdoor activities. Any accessories such as belts or scarves have to be black. For sporting events we now sell Waihi College trackpants.
Students are allowed to wear a wristwatch, studs or sleepers (no more than one in each ear), one necklace (to be worn inside the shirt) and one small ring. Hair must be a natural looking colour, of normal style and be acceptable to the Principal. Headbands, hair ties may be of any colour but must be of a plain style without bows flowers etc. Make up or nail polish is not to be worn and nor is it permissible to have facial piercing or visible tattoos.
PRICES as at March 2015
Shop Open hours are: 8:30am - 10:30am. Monday to Friday.